Maps of the Valdez Glacier Route
Return to home page
---
Allen's 1885 Map of the Valdez Glacier Route
Based on Lt. Abercrombie's Report



Map 1



Note that this map shows Valdez Glacier to be an east/west running glacier. In fact, the glacier runs north/south as shown on Schrader's1899 map. Lt. Abercrombie probably never crossed Valdez Glacier but instead relied upon second-hand reports. The discrepancy in the 1885 map, the only map the 1898 gold rushers had, caused great confusion among the prospectors.


---
Valdes (Valdez) Glacier Trail to Klutina Lake
Map 2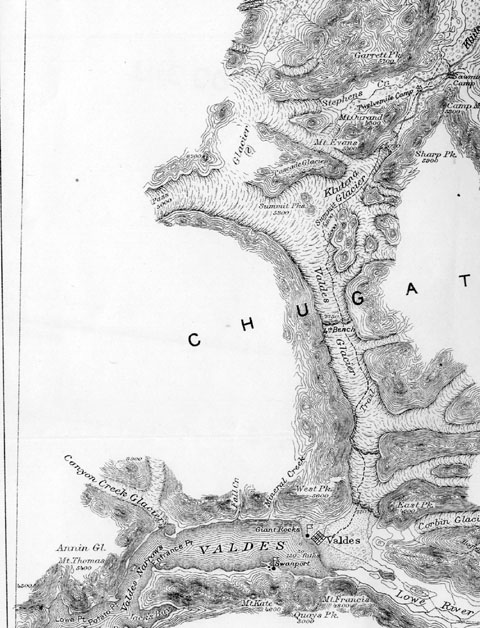 Note that the Valdez Glacier runs north/south. Lt. Abercrombie may have ascended Corbin Glacier in 1884, but no lake is visible from either Corbin or Valdez Glacier's summits.
---
Klutina Lake (Lake Abercrombie) to Copper Center, Copper River and Cordova

Map 3
Note that the route through Keystone Canyon which became the Military Pack Train Trail or Valdez Trail in 1899 and was upgraded to a wagon road between 1905-1909 is marked as a "probable route" on this map. Today, the Richardson Highway and Alyeska Pipeline follow this route. It was the first land-based route on American territory to Alaska's interior and the only road to the interior until 1942.